Friday February 3, 2016 at 7pm at Brooklyn Borough Hall
Saturday February 4 at the Noble Maritime Collection
with Dr. Jeff Bolster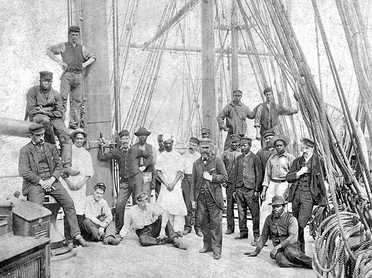 Join NYC H2O, Brooklyn Borough President Eric L. Adams, and the Noble Maritime Collection to celebrate African American History Month at a powerful lecture about 19th Century black sailors. The critical historic role played by black mariners in the Port of New York and Brooklyn, although poorly understood, is deeply relevant today. Over 20% of pre-Civil War maritime workers were Black, as can be seen in the exhibits and archives of our partners, the Brooklyn Historical Society and the Sandy Ground Historical Society.
Featured author and professional mariner Dr. Bolster traces the story to the period after the Civil War. Blacks actively contributed to the Atlantic maritime culture shared by all seamen in the age of sail, but were often outsiders within it. Capturing that tension, this stirring presentation examines how common experiences drew black and white sailors together, even as deeply internalized prejudices drove them apart.