Water Ecology & Engineering Field Trips
Over the course of NYC H2O's spring and summer season of water ecology & engineering field trips, we provided 76 field trips and 123 virtual lessons for over 6,000 students.
Since starting our program in 2014, NYC H2O has taken over 25,800 Title I and III students on free outdoor STEM field trips, and provided virtual lessons to over 7,800 students so that their learning could continue during the pandemic. These experiences have a lasting, positive impact on the lives of New York City public school students who learn about protecting their city's water ecology and systems at a time of increasing climate change.
Our STEM education programs provide a scientific and historical understanding of New York City's water system and infrastructure through field trips designed to meet and exceed New York City and State curricular standards. We engage students of all abilities in grades 2–12 by introducing them to inspiring water infrastructure sites, parks, and wetlands in the five boroughs, including:
Ridgewood Reservoir (Queens/Brooklyn)
Baisley Pond (Queens)
Central Park Reservoir (Manhattan)
​Jerome Park Reservoir (Bronx)
Silver Lake (Staten Island)
High Bridge (Manhattan / Bronx)
Lemon Creek (Staten Island)
Plumb Beach (Brooklyn)
Canarsie Park (Brooklyn)
Most of the students who come on our field trips are from low-income Title I and III schools and have limited opportunities to explore urban parks and natural areas; many have never explored greenspaces outside of their neighborhoods. They experience the beauty of changing foliage and the behavior of migrating birds. They get active by participating in tree races, where they identify trees, and learn how to collaborate by engineering a working aqueduct made out of tubing as part of the "Aqueduct Challenge." Students learn to read maps and situate their neighborhood in relation to New York's water bodies and sources. Ultimately, by learning about the nature of their city's ecosystems, they become stakeholders in the quality of the water and greenspace, and are inspired to become future resiliency stewards of New York City.
In response to the pandemic, NYC H2O developed virtual lessons that are provided live via Zoom. In addition, we developed the H2O Hub with interactive articles and curricula to accompany these lessons.
GIS lessons
NYC H2O launched a new program this year teaching GIS (Geographic Information Systems) lessons in public school classrooms and teacher training workshops in order to prepare students for technical careers in the sciences, engineering, and urban planning. Inside the classroom students learned how to apply GIS to study local environmental and social issues, such as environmental pollution in low-income areas in Washington Heights and urban stormwater flooding in Bushwick.
Sponsorship Thanks
We're grateful to the following City Council Members for their generous support of water ecology and engineering field trips and lessons for NYC students: Joe Borelli, Sandy Nurse, Jennifer Gutierrez, Kevin C Riley, Mercedes Narcisse, Carmen De La Rosa, Christopher Marte, David Carr, Adrienne Adams, Carlina Rivera, Shaun Abreu, Diana Ayala, Shahana Hanif, Inna Vernikov, and Robert Holden. We also thank Manhattan Borough President Mark Levine, and the NYC Department of Cultural Affairs.
A special appreciation goes to Manhattan Youth's Triton Swim Team, grades 3-8, who held a swim-a-thon fundraiser to sponsor NYC H2O water ecology trips for their peers throughout NYC.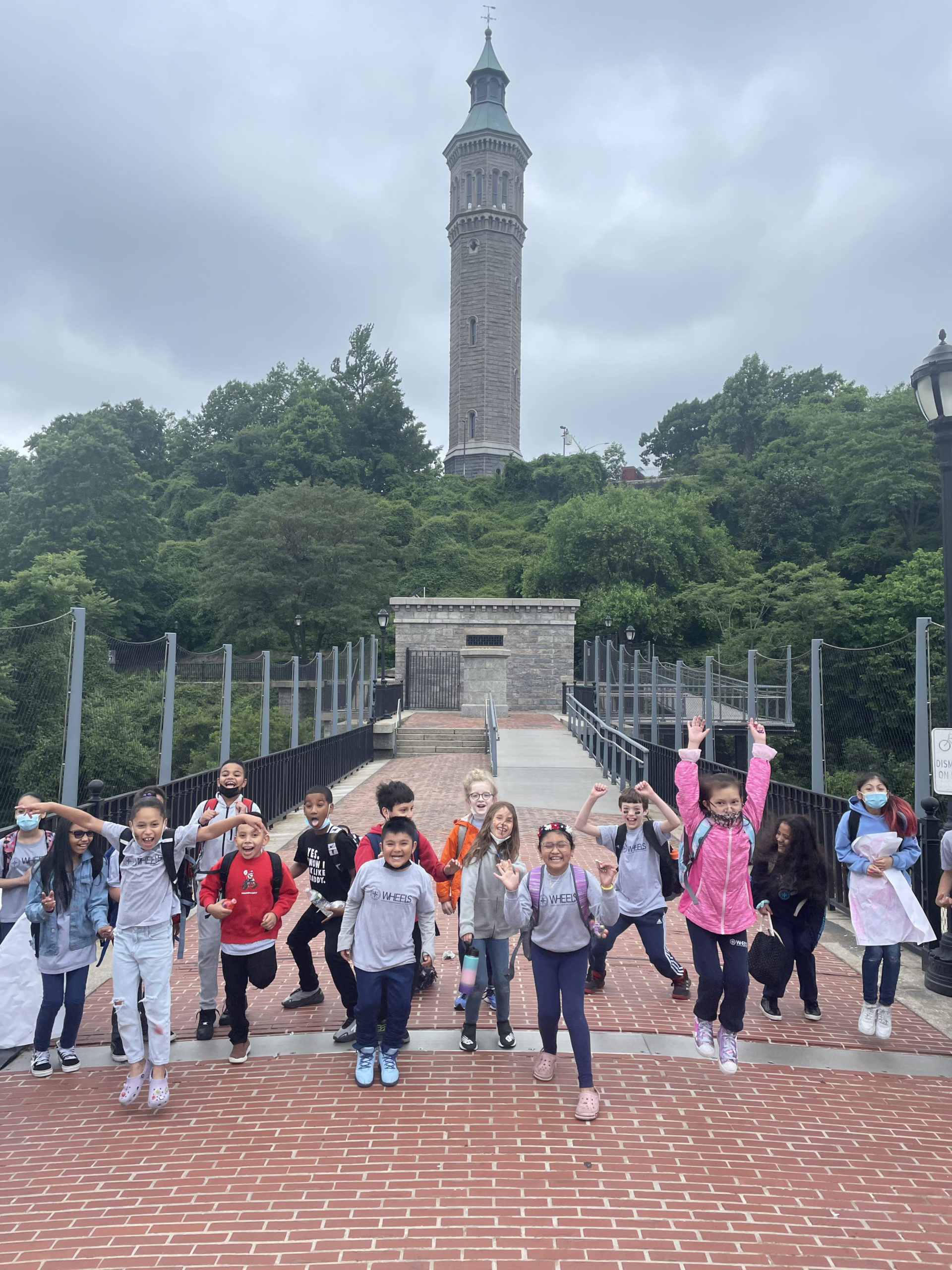 Beach and Wetlands Cleanups and Community Walks
NYC H2O held thirteen volunteer wetland and shoreline cleanups this spring and summer along Arthur Kill Road, at Lemon Creek Park, Oakwood Beach, Conference House Park, Plumb Beach, and Baisley Pond. Notably this cleanup count includes our debut Bronx cleanup at Erskine Place, a special school cleanup at Wolfe's Pond Park with IS 7's entire 6th grade class, and our first Canarsie Beach cleanup. We also organized two volunteer landscaping events in Staten Island at Lemon Creek Park and Olmsted-Beil House and helped lead building spotted lanternfly traps at Conference House Park.
This year we resumed hosting our Horseshoe Crab Discovery Walks at Plumb Beach, organizing community paddles at Neversink Reservoir. Nathan Kensinger also restarted his Staten Island walking series, leading two Rossville's Historic Waterfront tours; overall about 100 people attended these three community walks.
We thank all our partners who worked with us on beach and wetlands cleanups:​
City Council Member Joe Borelli
City Council Speaker Adrienne Adams
City Council Member Mercedes Narcisse
City Council Member David Carr
City Council Member Kevin C Riley
NYC Comptroller Brad Lander
​Natural Resources Protective Association (NRPA)
National Park Foundation
NYC Parks
City Parks Foundation
Partnership for Parks
Jamaica Bay- Rockaway Parks Conservancy
NPS – Gateway National Recreation Area
DSNY
NYPD
​New York Cares
United Activities Unlimited Inc.
Staten Island Zoo
Friends of Olmsted Beil House
SEQ Cleanup
Co-op City Riverbay Corp
Liberty Coca Cola
Con Edison
Volunteer Referral Center
Health for Youths
Friends of Canarsie Park
Rockaway Parks Merchants Corridor Association Inc.
Tottenville Civic Association
Trout Unlimited NYC Chapter Inc.
Boy and Girl Scouts
Brooklyn Tech
CUNY Brooklyn College
Curtis High School
Fort Hamilton High School
Gaynor McCown Expeditionary Learning School
Grover Cleveland High School
Hunter College High School
IS 24
​IS 34​
IS 7​
​IS 75
Leon M Goldstein High School
Monsignor Farrell High School
New Dorp High School
PS 3
PS 62
St. Clare's School
St. John's University
St. Joseph Hill Academy
​​St. Joseph's by-the-Sea High School
Staten Island Tech​ High School
Stony Brook University
Stuyvesant High School
Susan E Wagner High School
Tottenville High School
Ridgewood Reservoir Stewardship
NYC H2O has been actively engaged in a campaign to add a bus stop at the Reservoir to increase its accessibility as a greenspace for underserved nearby communities that are dependent on public transportation, and to better serve visitors coming to the Reservoir from neighborhoods that are farther away. We now have a perfect opportunity to offer input to the MTA as they proceed with the public comment process during the Brooklyn and Queens bus network redesigns.
Local community boards as well as several elected officials have offered their support for this initiative.
The MTA is still accepting suggestions so please send your request for a bus stop by clicking here.
Each month NYC H2O organizes a volunteer stewardship event to remove invasive plants such as knotweed, bindweed, and mugwort and plant native pollinators such as milkweed and mountain mint along a path that overlooks the Reservoir.
We thank the New York City Department of Parks for working with us to improve the Reservoir through citizen involvement. We also thank City Council Members Sandy Nurse and Jennifer Gutierrez for their generous support of our work at the Reservoir which allowed us to provide 8 free tours of the Reservoir and its natural areas for over 150 local community residents and participate in documenting over 385 species participating in the City Nature Challenge bioblitz.
We thank the following elected officials who advocated for the Ridgewood Reservoir, amplifying the voices of diverse community groups in both Brooklyn and Queens as to the importance of protecting the Reservoir while providing greater access to this ecological and cultural treasure. These include: Congress Members​ ​Nydia​ ​M.​ ​Velázquez​ and Grace Meng; Queens Borough President Donovan Richards, Brooklyn Borough President Antonio Reynoso; Council Members Sandy Nurse, Jennifer Gutierrez and Robert Holden; Assembly Members Jennifer Rajkumar, Cathy Nolan, and Andy Hevesi; and State Senators Joe Addabbo and Michael Gianaris.
Teacher Testimonials, Spring and Summer 2022
Grade 3 Teacher: "The trip was perfect and perfectly timed!!!! It connected so well to our unit of study. We loved the fact that we didn't stay in one place the whole time which kept the kids engaged. We also loved that they were able to take part in a STEM activity of building their own aqueducts. I would just like to say that guides were AMAZING!!! They were a wealth of knowledge and really challenged our students. We cannot wait to book another trip next spring."
Grade 3 Teacher: "The trip was splendid and kids had tons of fun with the H2O guides!! They enjoyed the scavenger hunt, learning new facts about the water system, the importance of taking care of the environment and meeting live horseshoe crabs. Many of these students are new immigrants in this country, so it's the first time being on Plumb Beach. I loved the activity so I wouldn't change anything. Thank you for the great experience for our students and can't wait to go on more adventures with you to other areas."
Grade 6 Teacher: "Thank you so much for hosting the trip for our school once again. The students learned about the wastewater systems, did scavenger hunt exploration, explored the ecosystem and cleaned up a large stretch of an area to complete the conservation component of the trip. We had children who had different needs and they were able to explore, sit and rest, express verbally and create sand structures to expand on their creativity and make connections to geography and archaeology. "
Grade 9 Teacher: "Thanks again for hosting us. The kids and staff had a great time learning about the highbridge as well as creating their aqueducts. Overall, the students had very positive feedback after the trip and enjoyed themselves a lot. It inspired some of my students in terms of their bridge design for the engineer project that we are working on. They really enjoyed the hands-on component at the end."
Continuing Ed Online Events
NYC H2O reached over 600 viewers in continuing its online programming which included (linked are available to view):
What This Story Needs is a Pig in a Wig reading with author Emma Virjan
Names of New York talk with author Joshua Jelly-Schapiro
Teacher Workshop Part 1: Intro to GIS
Teacher Workshop Part 2: Using GIS in the Classroom
Tidy reading by author Emily Gravett
Spring and Summer Interns
NYC H2O had the privilege of hosting eight high school and college student interns this past spring and summer. Through the CUNY Climate Scholar Program we worked with a community engagement & development intern and enjoyed a final semester with our returning data analytics intern before he graduated.Two high school interns also joined us on the weekends to assist with stewardship events in both the spring and summer semesters.
In the summer, two CUNY interns and one SYEP intern helped cut invasive Phragmites at the Ridgewood Reservoir and assisted with our Staten Island stewardship events. A fourth college intern helped survey the flora in the outer basins of the Reservoir and assisted the field guides during NYC H2O's summer water ecology field trips.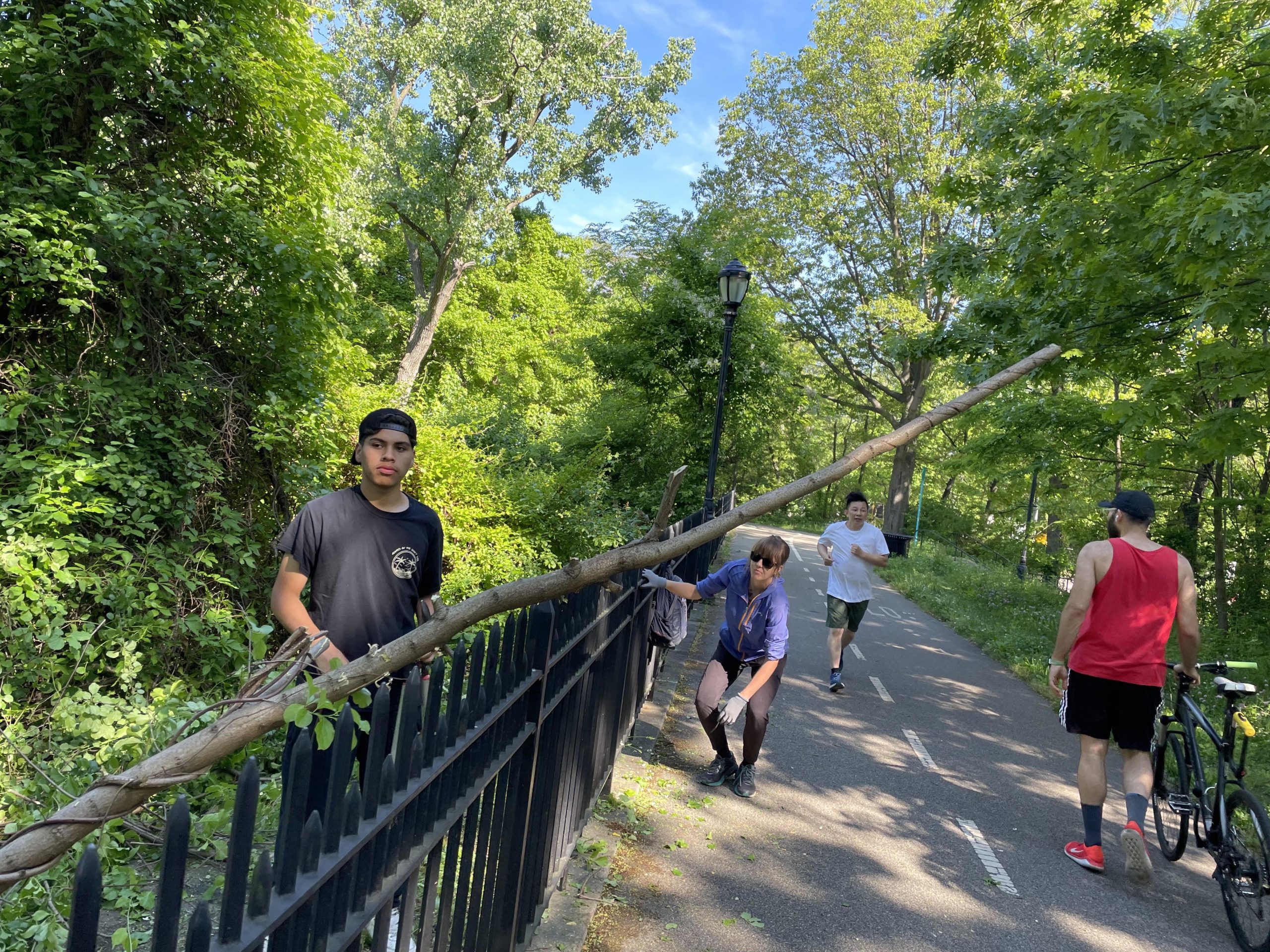 Highland Boulevard and Vermont Place Intersection
NYC H2O was delighted to attend the ribbon cutting ceremony celebrating the completion of DOT's redesign of the Highland Blvd and Vermont Place intersection. We're grateful to see the fruits of our advocacy transform the intersection into a safer, more accessible Highland Park for all; including pedestrians, cyclists and mobility aid users.
Ridgewood Reservoir Mural Design Contest
In April, we held our first mural design contest to beautify our 20 foot storage container at Ridgewood Reservoir. Brooklyn based artist, Kate Nielsen, and rising Queens 9th grader, Jasmine Huang, were selected as the large and small mural contest winners. Painting was completed in July and the murals remain on view for park-goers to enjoy along the bike path by the Jackie Robinson Highway.
Thank You for Your Support
Thank you again to all our sponsors and to all who support our work through donating, volunteering, and participating in NYC H2O programs such as kayaking and walking tours, or attending our teacher education programs.
Support NYC H2O to Support NYC's Kids
Your donation directly supports our free outdoor educational field trips for underserved students enrolled in Title I and III schools in all five boroughs. Please consider donating here to support our students in learning about the critical importance and beauty of New York City's water through hands-on science learning. Members are a critical part of our NYC H2O team: learn how you can make a difference by becoming a member here. Members receive NYC H2O merchandise and other benefits such as event and walking tour discounts.